Published: 2021/01/14
Top to Toe Family Care
Justine's Tissue Oil range is expertly created to nourish every family member's body, from top to toe. Try these 5 products with #RealTissueOil goodness for the whole family.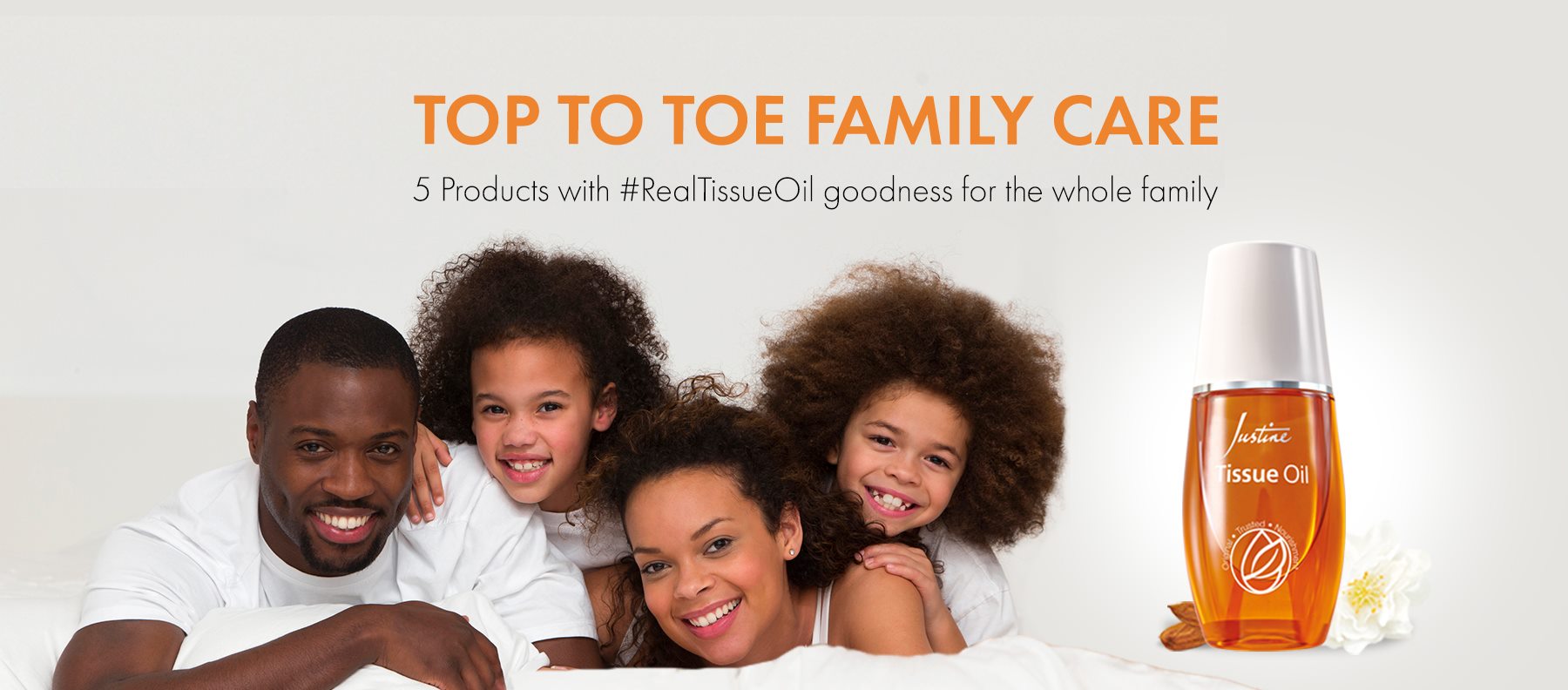 Ah, summer days. Sun, fun, family… And then comes January. It's time for fresh starts, and while the warm, sunny days are now more work than play, your family's skin can still feel like you're on holiday.

From rich body butter to hydrate dry, sea salt exposed skin, to moisturising hair oil to repair the damage of long lazy days in the pool, Justine's Tissue Oil range is expertly created to nourish every family member's body, from top to toe.

Tissue Oil Softening Body Butter
The elements, allergies and other environmental aggressors can irritate skin and increase sensitivity. Throw harsh soaps into the mix and you have a recipe for dry skin.

Our Tissue Oil Softening Body Butter counteracts these effects with an infusion of #RealTissueOil to intensely hydrate and nourish your family's skin for up to 24 hours*.

Worried about using a rich body butter in summer? Don't be! This formula is easily absorbed, leaving skin feeling healthier, luxuriously soft, smooth and moisturised without leaving an oily residue.
Tissue Oil Moisturising Hair Oil
In December, sunscreen was your best buddy - from the backyard braais, to the sandy beaches. Congrats. But wait, did you remember to give your hair the same protection?

The summer sun's UV rays break down the hair's cuticle, and can leave your strands dry, damaged, and frizzy. Tissue Oil Moisturising Hair Oil is formulated to conveniently moisturise and restore shine with a blend of 8 botanical oils, vitamin E and protective UV filters for healthy, manageable looking hair.

Not only will the omega oils and antioxidants improve the appearance of dry and damaged hair, but your family's hair will be protected and gleam with a lasting, healthy shine.

Tissue Oil Stretch Mark Cream
Mom, we see you still flaunting your summer body. We've got you covered, even when you've traded your bathing suit for your office attire. Restore and maintain your skin's elasticity all year around with this rich, luxurious cream.

Prevent new stretch marks from forming over time with Tissue Oil Stretch Mark Cream, formulated to:

Reduce the appearance of stretch marks

Protect and rebuild elastin and collagen fibres

Moisturise skin for up to 24 hours*
The blend of trusted Tissue Oil ingredients, fennel fruit extract and pomegranate juice leaves your skin feeling hydrated and nourished.

Tissue Oil Lip Therapy
Change of season and the constant 'mask on, mask off' action you've been doing all summer - and will continue to be doing for the foreseeable future - can take a toll on one of the softest parts of your body.

A handy handbag staple you'll come to love is Tissue Oil Lip Therapy, a luxuriously moisturising lip balm formulated with a unique blend of waxes and natural oils. Not only does it help moisturise and nourish dry, chapped lips, but also protects your family from sun damage.

Vitamin E Acetate, a main ingredient in the lip balm, is known to help reduce the formation of free radicals in lips when exposed to UV rays or other sources of environmental stressors.

Tissue Oil 60ml and Cleansing Bar
This formidable duo is an all-round family favourite. The Tissue Oil Cleansing Bar gently cleanses skin without drying it out, while nourishing and restoring skin's normal pH.

If you and your kids enjoyed the summer sun a little too much, we've got you. Justine's unique, trusted Tissue Oil helps your skin bounce back:
Reduces the look of sunburn in 2 weeks**

Helps to reduce the look of scars & stretch marks in just 2 weeks*

Assists in strengthening skin & improves firmness in 2 weeks**

Keeps skin moisturised for up to 24 hours after a single application**
Your skin is left looking and feeling younger and more radiant in as little as 1 week*.

Shop at www.my.justine.co.za for these five family-friendly tissue oil skin products that will have you and your family soaking up the last of the summer sun looking great, without breaking the bank.
*Based on a clinical study
**Based on a consumer study

Shop the blog