Published: 2020/10/21
Summertime Style in the Bag
Your favourite shoulder accessory shouldn't have to carry a designer price tag. Here are 5 of the most stylish bags that are hitting it big this season.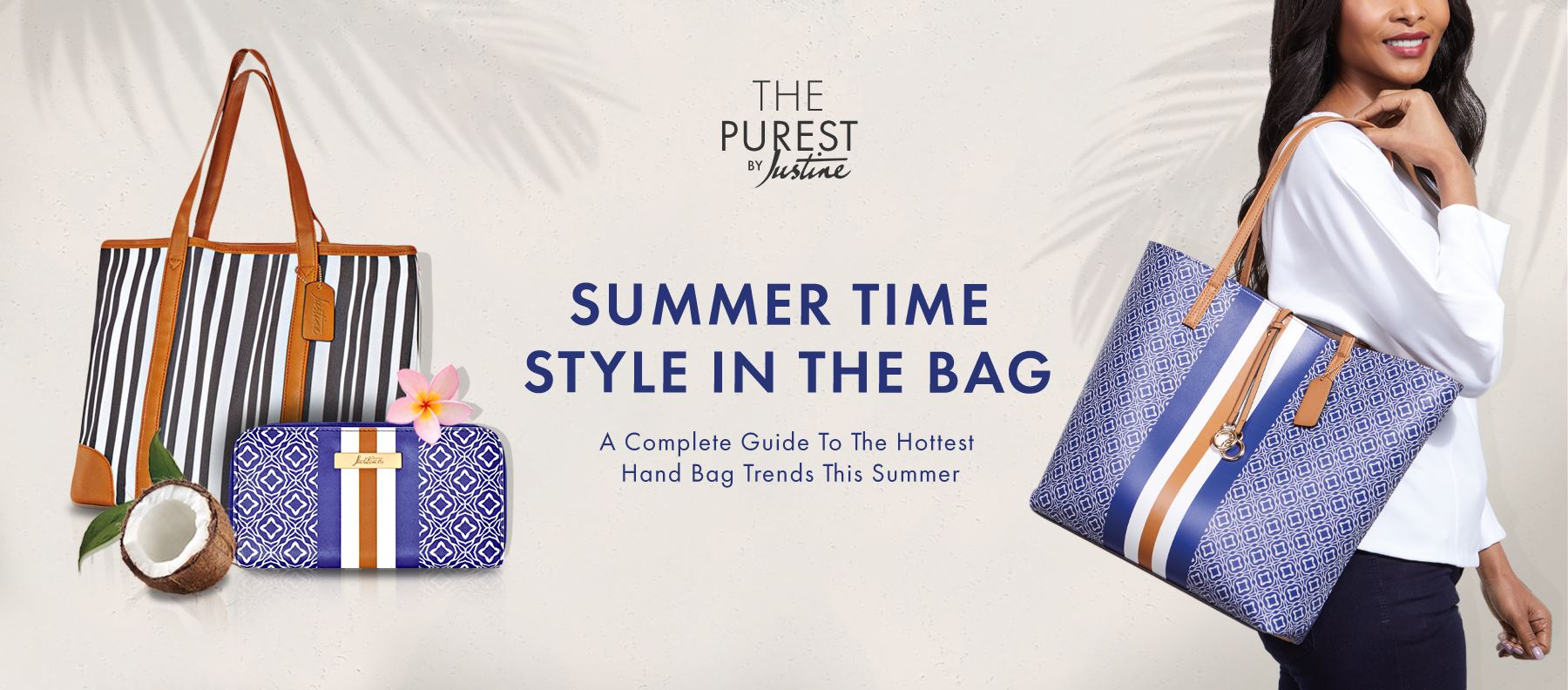 A Complete Guide To The Hottest HandBag Trends This Summer
Whether you're going casual in t-shirt-denim jeans combo or wearing your favourite cocktail dress, a great way to elevate a summer outfit is by choosing a summer bag. And with everything from designer totes and bright clutches to elegant summer satchels, 'tis the season to get on trend.

However, it should be noted that your favourite shoulder accessory shouldn't have to carry a designer price tag.
Here are 5 of the most stylish bags that are hitting it big this season - without costing you a small fortune:
THE NOT-SO-BASIC HANDBAG
From subtle vintage-inspired details to statement buckles - gilded-clasp bags are a huge trend this summer - playing into the bourgeois trend that's been going strong for the past few seasons. Moreover, the trend will take you from spring to summer and straight back into autumn without too much effort.

We recommend: The Demi Handbag - R399
No, it's not the navy faux-leather design with tan trim and gold-toned embellishments that make us crave this bag - okay, yes it is. But, it's also practical with 3 compartments to store your wallet, phone and an emergency lippy, as well as secure zip closure.
MISS MATCHED
A little bit of matchy-matchy makes us feel all kinds of fancy this summer, so work the season's trends down to the detail by coordinating your bag and wallet - it's the secret to instant chic style!

We recommend: The Bahumi Tote - R399 and The Bahumi Wallet - R229
This tri-coloured faux-leather handbag and wallet set is everything you need to set yourself apart from mainstream bagging this summer. The wallet has an inner cash compartment with zip closure, making it both beautiful and functional. Ready to take it even further? Up your match with the Bahumi Cover Up for extra protection (and extra style) in the hot summer sun.
LARGER-THAN-LIFE TOTES
There's no such thing as fun in the sun without the perfect bag in hand to carry all your seasonal essentials: Sun screen, lip balm, swimsuit, water bottle. Good news for us ladies, the hottest bags this summer come in the form of extra-large designer totes in a myriad of fabrics, such as buttery soft leather, canvas, suede, and mock croc. This season sees designers looking at bold, statement bags that really express your personality - the perfect accessory for a bright summer's day.

We recommend: The Alisha/Lyisha Tote - R199
With it's spacious design and bold print, these gorgeous totes have a je ne sais quoi about it that matches with your entire summer wardrobe. It takes you from sand to street in a way that only a tote can.
THE SWEETEST SATCHEL
While satchels are a timeless, practical staple all year-round, it's seeing a resurgence of popularity this summer with modern details and luxe fabrics. Opt for the sleek and sophisticated look of moc-croc for an exquisite addition to your night-time wardrobe.

We recommend: The Carmel Satchel - R379
Since it's all about the details for spring/summer 2020, the Carmel Satchel is the perfect fashion statement. The black faux-leather bag with moc-croc detailing features a functional front pocket and tassel detail - the Marilyn Monroe of bags, if you will.
THE BOLD & THE BEAUTIFUL
We've seen a plethora of bright and bold coloured bags on the runway, but it was the saturated orange hues that we saw reigning supreme.

We recommend: The Gugu Structured Bag - R429
To add a lively touch to every summer outfit, we suggest you go for this orange and yellow-toned structured bag with adjustable shoulder strap, inner zip closure and functional flap with magnetic clasp.