Published: 2020/10/13
Summer Beauty in a Bottle
OK, sun, we see you! Time to pull out the summer wardrobe: bathing suits, dresses, and leg-bearing shorts!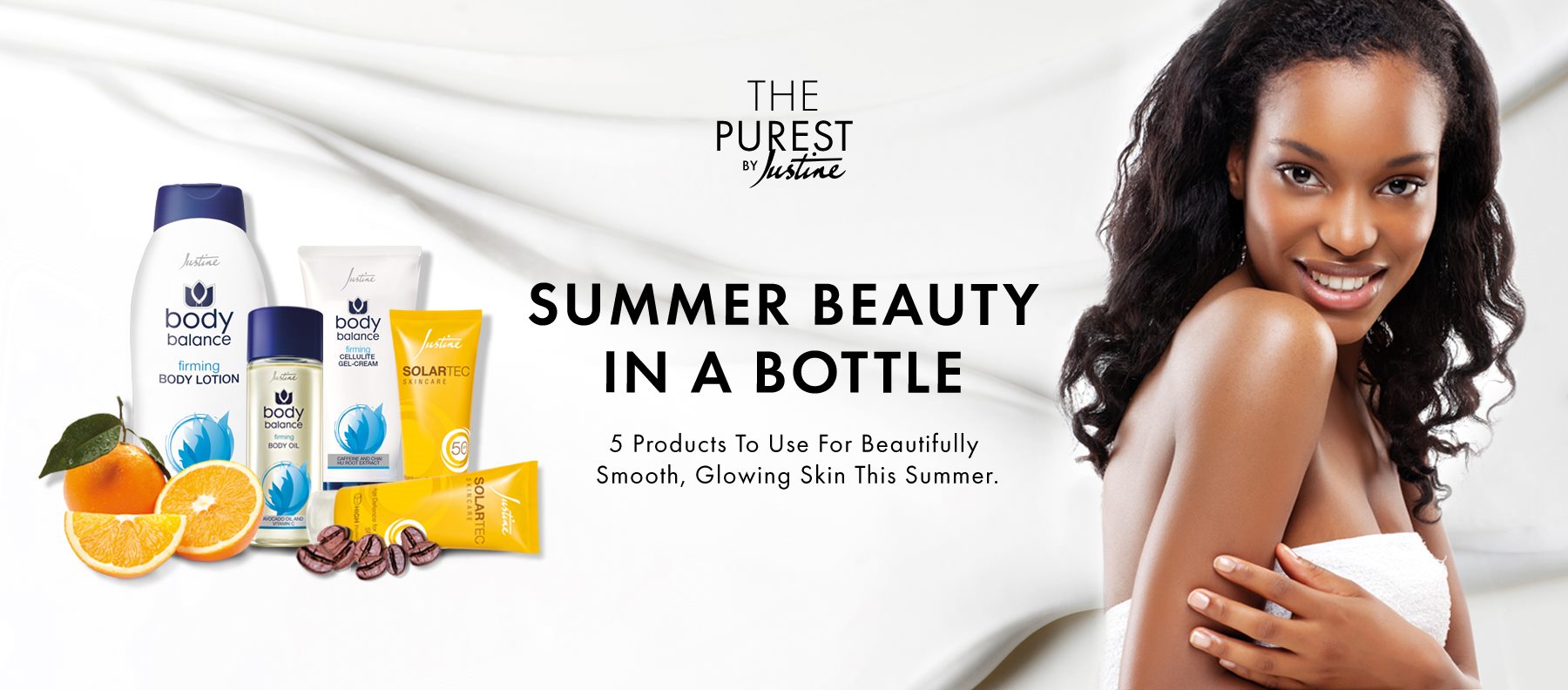 5 Products To Use For Beautifully Smooth, Glowing Skin This Summer 
OK, sun, we see you! Time to pull out the summer wardrobe: bathing suits, dresses, and leg-bearing shorts! But if winter hibernation and quarantine has your legs feeling less than confident, we've got a great solution for you. Get gorgeous, smooth legs with the Body Balance Firming range: ultra skin-firming body products that'll leave your skin firm, hydrated, glowy and ready to flaunt!
Body Balance Firming Oil
Looking for smoother, more toned and a more refined skin appearance? We've got the answer! Body Balance Firming Oil is an easily-absorbed 5-in-1 solution that provides visible and clinically proven skin-firming results, as well as even skin tone, intense hydration and anti-pollution benefits. This delectable formulation has anti-ageing properties that firm and plump the skin and antioxidants to minimise the appearance of cellulite.
The results? After 28 days, over 90% of women have smoother-looking, more elastic skin* and firmness is increased by up to 15 times*.
*Based on a clinical study
Body Balance Firming Cellulite Gel-Cream
If you are anything like 90% of the women in the world, you have cellulite to some degree. Cellulite is completely normal and to be expected. That doesn't mean we have to live with it.
Body Balance Firming Cellulite Gel-Cream is enriched with Chai Hu extract, an ingredient known to target fat cells and reduce the look of cellulite immediately. It also contains caffeine to help sculpt and smooth skin's appearance, while menthol creates a cooling sensation during application.
Body Balance Firming Lotion
Winter can leave your skin stretched and dry, causing it to lose elasticity and smoothness. And, even though we take care of it, our skin sometimes needs a helping hand. The key to healthy-looking skin is moisture and firmness. Body Balance Firming Lotion not only leaves your skin feeling smooth and supple (thanks to the moisturising formulation with innovative glycerine, unique algae and linden flower extract), it also maintains firmer, smoother and nourished looking skin.
Carry supple skin wherever you go with the handy 400ml Body Balance Firming Lotion bottle, or get more value with the 750ml version.
SolarTec for Extra Protection
Overexposure of skin to the sun is the main cause of premature ageing, known as photoaging. Whether spending a day at the beach or running errands, sun protection is essential. You can protect your skin by seeking shade, covering up with sun-protective clothing and - most importantly - using water-resistant suncare that is broad-spectrum, SPF 30 (or higher).

SolarTec Age Defence for Face SPF 30: A quick-absorbing, lightweight cream that delivers broad spectrum sun protection against UVA and UVB rays. Includes anti-ageing vitamin complex to nourish and moisturise skin.
SolarTec Mattifying Defence for Face SPF 50: Contains a trio of botanical extracts to repair damaged skin cells in 24 hours**, as well as a mattifying formulation for a shine-free complexion.

**Based on Cell Bio Technology
Glowing Summer Skin You Can Be Proud Of
So there you have it. Shop at www.my.justine.co.za for these five summer-skin products that will have you looking and feeling like a goddess of the season. Bring it on, summer, we're ready for you!