Published: 2020/10/30
New from Justine: Get Bikini Ready in 4 Weeks, Get Even Skin Tone in 3 Days, Decrease Wrinkle Depth in 10 Minutes, & More!
To ensure that you do not miss out on all the exciting launches that happened this October, we have summarised all the amazing new products that have landed at Justine.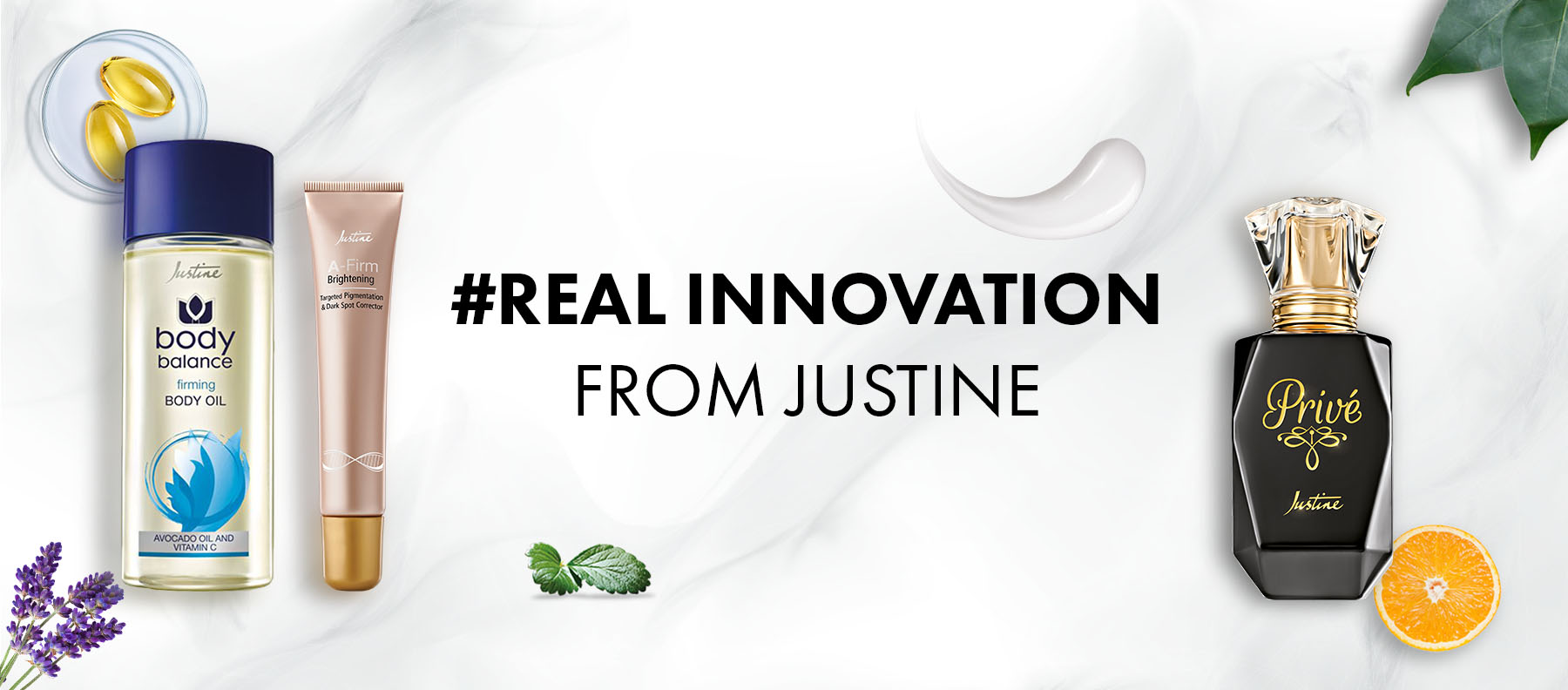 These new innovations are sure to help you reach your skincare & body firming goals, while also being perfect as delightful gifts to add to your Christmas shopping lists.

With over 47 years of experience, Justine is continuously launching new, delightful products that are perfectly formulated & developed for you. Our products are made by South Africans, for South Africans, giving you what you need for your skincare, personal care & cosmetic needs. Just in time for the festive season, as well as the summer holidays, Justine has you covered with even more premium solutions to help you kick off the festivities, covered from head to toe with all the products you need to be the best, confident you this season (& not forgetting to spoil all your loved ones with perfect gifting solutions!).
1. A-Firm Brightening Targeted Pigmentation & Dark Spot Corrector
The new A-Firm Brightening Targeted Pigmentation & Dark Spot Corrector is developed for darker skin tones to effectively target & treat those stubborn dark spots & blemishes. Formulated with A-Firm Brightening's powerful 10-botanical active blend, known for its ability to improve the brightness and luminosity of pigmentation, the A-Firm Targeted Pigmentation & Dark Spot Corrector improves the appearance of dark spots & is the perfect addition to your A-Firm Brightening regimen – specifically targeting those stubborn dark marks, allowing your natural skin tone to become even, flawless & radiant.

The A-Firm Targeted Pigmentation & Dark Spot Corrector:
Corrects & improves the appearance of darks spots in just 3 days*
Decreases the appearance of targeted irregular uneven skin tone within 28 days*
Is formulated to improve the appearance of targeted blemishes on darker skin tones
2. A-Firm Platinum Line Diminishing Treatment
The groundbreaking, new A-Firm Platinum Line Diminishing Treatment decreases wrinkle depth, enhances skin elasticity & increases skin smoothness, with visible short-term & long-term results; this includes results that are visible in just 10 minutes! It is formulated with a unique, wrinkle-fighting blend of apple fruit stem cells, anti-ageing peptides & glycolic acid, helping to boost the production of collagen, stimulate youth proteins & effectively exfoliate the skin to help with cell renewal & to reduce dark spots.

The A-Firm Platinum Line Diminishing Treatment:
Targets crow's feet & forehead wrinkles, with decreased wrinkle depth in 10 minutes*
Increases skin firmness & smoothness in 7 days*
Drastically decreases overall wrinkle depth in 14 days*
3. Body Balance Firming Oil
Body Balance Firming Oil is a new 5-in-1 firming body oil that addresses ageing & cellulite concerns with visible results that leave the skin looking smoother & firmer. Along with visible firming results, the other 4 benefits of this product include anti-ageing benefits, intense hydration, even skin tone & anti-pollution benefits. Formulated with avocado oil, sunflower seed oil & vitamin C, the Body Balance Firming Oil increases natural collagen production while leaving the skin feeling & looking smoother & moisturised for an overall firmer silhouette.

The Body Balance Firming Oil:
Increases skin firmness by up to 15 times more than untreated skin in 28 days*
Promotes skin that feels smoother & more supple after 28 days*
Has real results - 9 out of 10 women had firmer skin after 28 days of application*
4. Privé Eau de Parfum
Reveal a mysterious paradox of confident demure. The beginning of a curious tale that captures all your sides; your individuality, your sensuality, your secrets. This complex & intoxicating Eau de Parfum is Justine's all new fragrance for the modern, multi-faceted woman, perfect for those who fall under more than one label. Full of contradictions, Privé is an intricate alchemy of opposites, unravelling with black cherry & hypnotic notes of jasmine that end on the decadent seduction of ambrox & vanilla.

Privé has an Oriental Floral scent, formulated with the following notes:
Sparkling top notes: Grapefruit, Black Cherry, Pineapple
Hypnotic middle notes: Anise, Jasmine, Ylang ylang
Seductive base notes: Orris, Sandalwood, Ambrox, Vanilla
Spoil yourself & your loved ones this season with Justine's brand-new products, shop the blog & get ready for the festive season, armed with the latest & greatest skincare, body care & fragrance innovation!

*Based on a clinical study **Based on a consumer study