Published: 2020/11/17
Natural Stone Facial Roller: Skincare myth or Science?
The question is: does it work? And how? Is it just another gimmick that will gather dust in your bathroom cabinet, or is it worth including in your beauty regime?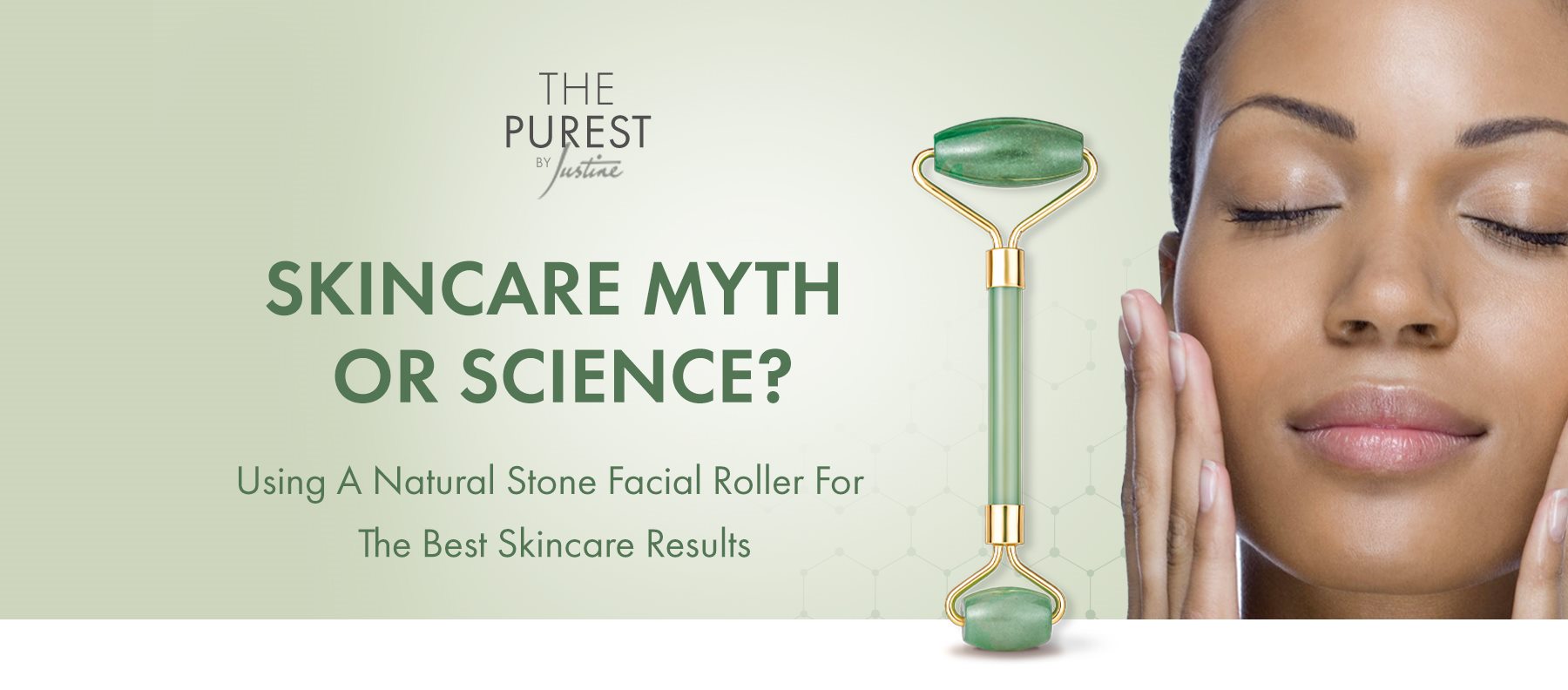 At this point in our culture's holistic obsession, we've graduated from storing crystals on our desks as paper weights to cleansing our water with them; purifying our auras with them and meditating with them. But so far, rubbing crystals on our faces under the guise of skincare hasn't entered into the fray—until now.

While some may think the natural stone facial roller is nothing more than a hot beauty trend, others (like Khloe Kardashian) claim it to be the secret gem behind their healthy, glowing skin.
The question is: does it work? And how? Is it just another gimmick that will gather dust in your bathroom cabinet, or is it worth including in your beauty regime? Here's the scoop on natural stone facial rollers.
What Are They?
In layman's terms, a natural stone facial roller is a beauty tool that has a polished, rounded crystal attached to one end, for use on one's face. The tool often has dual ends, with a long oval-shaped stone on one end for the flat planes of your face like your cheeks, forehead and chin, and a smaller, rounder stone on the other end for under-eye areas, nose and eyes.

Natural stone rollers are said to have been a part of beauty routines among Chinese elites since the Qing dynasty, which began in the early 17th century. People who associate stones with certain properties claim these natural crystals have the ability to heal and soothe.
Better For Your Skin, Naturally.
The main benefit of a natural stone roller is to stimulate facial and neck lymphatic drainage. Wait, what?!

A "self-administered lymphatic drainage massage" might sound like a procedure you wouldn't be allowed to eat 24 hours beforehand, but it's just a simple way of saying that you're de-puffing your skin. The lymphatic system is a network that picks up fluids and waste from the spaces between the cells and then filters and cleans them, so it helps rid the body of toxins, waste and other unwanted materials. Massaging the facial structure is key to helping our face move the excess fluids, which cause the puffiness.

In addition to this, natural stone rollers are also known to:
Improve blood flow, increase collagen production and improve skin elasticity, thus minimising the look of fine lines and wrinkles

Relieve facial muscles, giving your skin a boost and preventing wrinkles down the line

Detoxify skin for a healthier, brighter glow

Allow your body to rest and your cells to regenerate, preventing acne and breakouts
However, these rollers are not a replacement for good skin care - they are a tool to help enhance penetration of active ingredients into the skin and make the most of your skincare regime. They're also perfect to use at the end of a long day to ease stress and get you into bedtime mode.

How To Use The Roller
If you're not already convinced by the benefits, the simplicity of using the tool might sell you. Start massaging your face, beginning at the centre. Roll the larger end of your tool across your forehead and under your cheekbones and jaw, then extend to the sides of your neck. Use the smaller end of the tool and roll it under your eye, moving it horizontally toward your temple, and repeat it on your eyelid.

Remember to store your natural stone roller in the refrigerator. The coldness of the stone will help reduce inflammation and maximise the de-puffing effect. Make sure you clean it after use with mild soap and warm water.
Justine: On A Roll
Thoroughly convinced you're missing out on this ancient Chinese beauty secret? Now you can get one (or two, or three) straight from the Justine website. Justine's Natural Stone Facial Roller can be used to massage your favourite serums, oils and face creams into the skin for maximum benefits, and is designed with elegant gold-tone finishes. The tool features a larger stone for cheeks, jaw and forehead, and a smaller stone for under the eyes and around the mouth.

And, to get the ball rolling, we'll give you one of these magical rollers for FREE during the month of November, when you spend R549 (or more) on any products from the A-Firm skincare range. Now that's the real deal!