Published: 2020/05/13
Justine A-Firm Platinum range: I tried this
At the end of a particularly rough year, I was ready to try something new. It's so boring to keep hearing about disasters & suffering and much more fun to write about a beauty range that might help to repair the damage this past year wrought on my skin.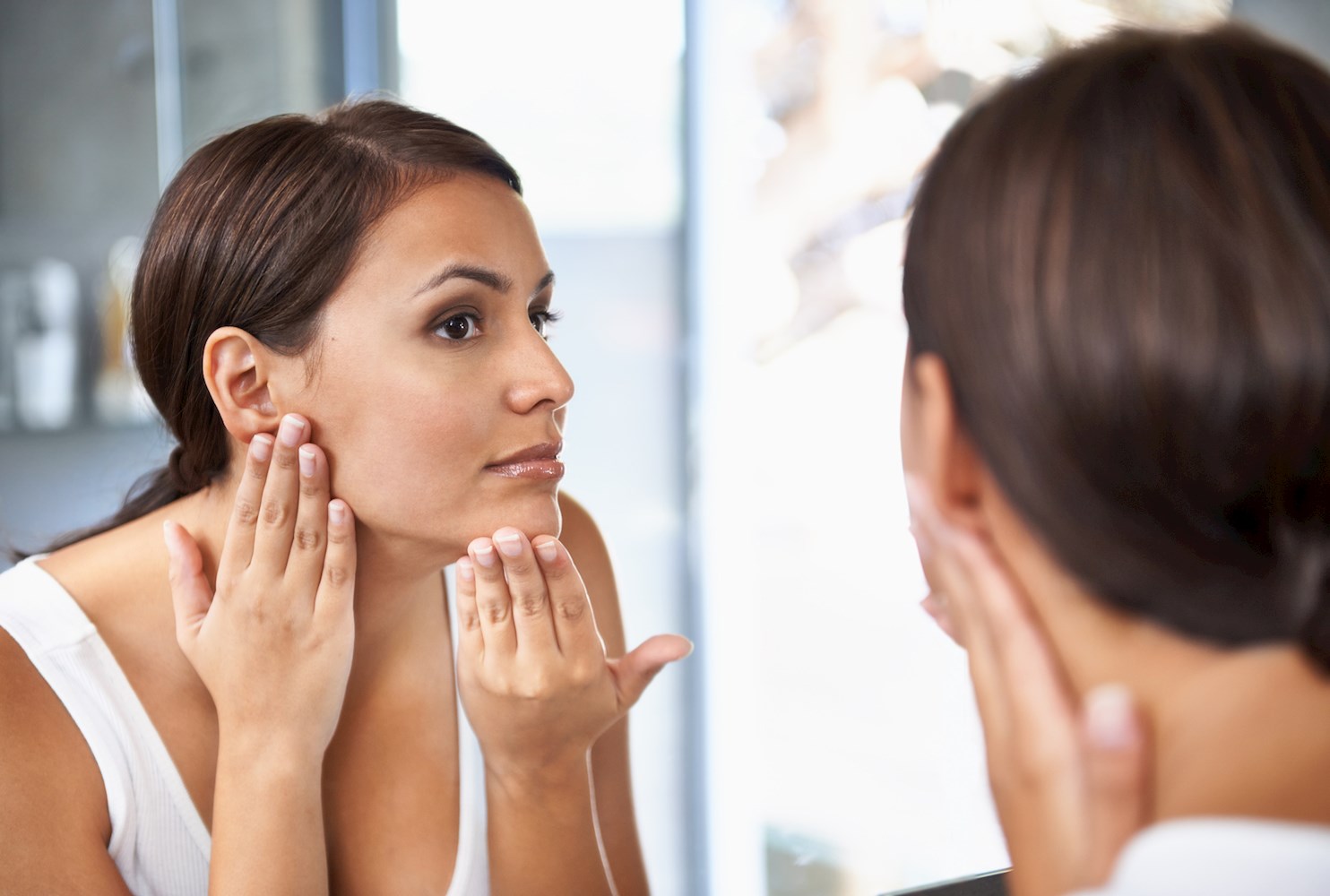 The well-known South African cosmetics house, Justine, asked me if I felt like trying their A-Firm Platinum-range. The range is specifically formulated for ageing skin. So, I packed my holiday vanity to the brim with A-Firm Platinum Anti-Ageing Serum (R349); A-Firm Platinum Anti-Ageing Day Cream SPF 25 (R349); A-Firm Platinum Anti-Ageing Night Cream (R349); A-Firm Intensive Deep Wrinkle Eliminating Serum (R249).
According to the description, the product offers intensive anti-ageing benefits and addresses the visible signs of ageing such as: lines, wrinkles, loss of firmness, dull skin and dehydration. I think we can all agree that the worst sign of ageing is the loss of elasticity – it causes your facial contours to sag & causes an overall lack of firmness. The product is formulated with platinum extract – an ingredient that I have only come across in the most expensive skincare products. According to Justine, you could start to notice a difference after just 7 days of continuous use.
As is my habit, I measured my skin's moisture and oil content as well as its elasticity with my handy Skin Republic analyser, just before I started trying the range.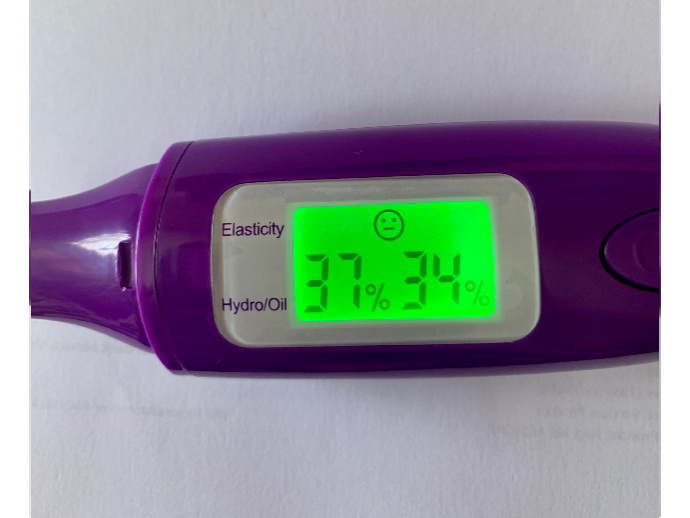 This reading indicates that my skin's elasticity is normal, but can be improved. The moisture content is just normal (almost below normal) and can be improved GREATLY. The oil content is also far too high. I followed the usage instructions to the letter. In the mornings, after cleaning my skin, I applied the serum that contains platinum extract along with fruit stem cells. I gave it enough time to absorb into my skin before applying the day cream.  
The A-Firm Platinum Anti-Aging Day Cream SPF25 was quite a surprise! When I opened it for the first time, I actually got a bit of a fright because the texture was extremely thick and the colour was extremely white. I assumed the white colour had to do with the fact that the product has a built-in sunscreen. I applied the product, and to my delight it absorbed wonderfully and left my skin feeling and looking moisturised and radiant. I really like the fact that the product is a multi-tasker that not only addresses firmness & elasticity concerns, but also provides great sun protection. It is the perfect holiday pal for your skin!
In the evenings, I used the A-Firm Intensive Deep Wrinkle Eliminating Serum followed by the night cream. This serum targets deep wrinkles. According to the instructions (I always read them!) this serum must not be used without sun screen, as it makes skin sensitive to the sun.
The night cream has a thinner texture than the day cream. It also absorbs immediately and raises skin's moisture levels within 24 hours after a single application. Your skin requires moisture at night to repair the damage of each day (read my article on skin and night-time care in the Winter-issue of the gorgeous Stellenbosch Visio magazine).
The results? After one month of continuous use, my skin's reading looks like this: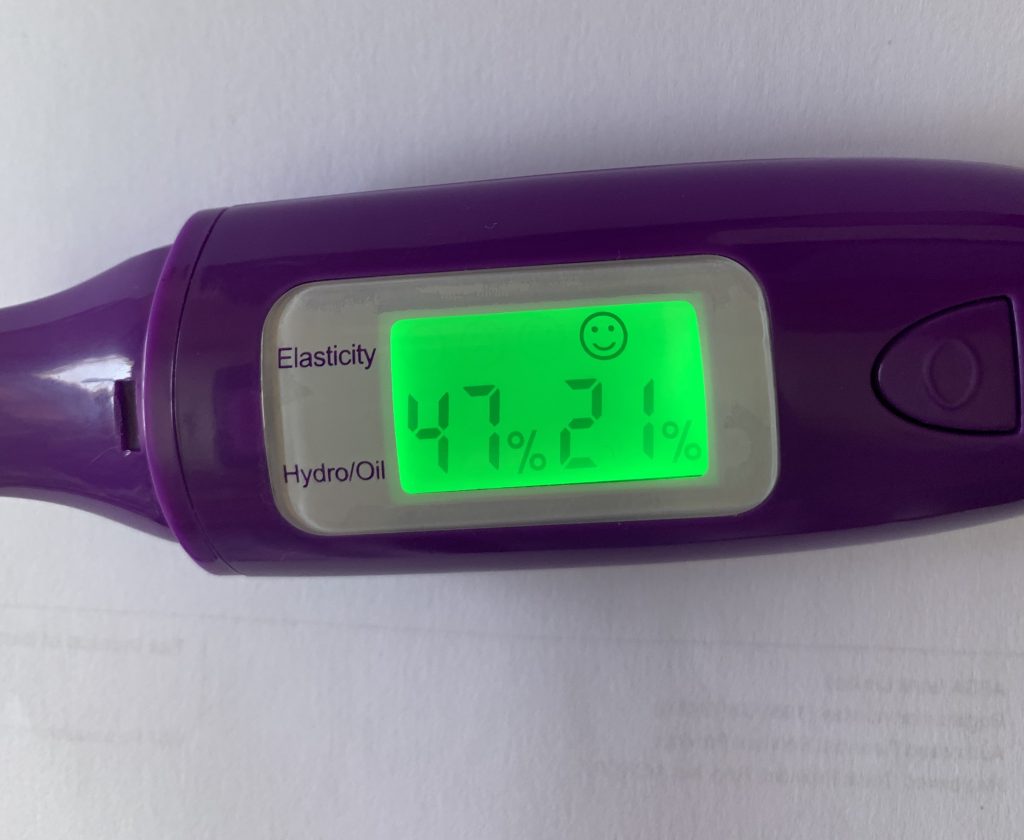 Clearly, the moisture content has greatly improved (yay – dry skin is wrinkly skin) and the oil content is considerably lower, but still at a normal level. The elasticity also improved. On top of this, my skin therapist, Coleen Serebro from Beauty Professionals, who knows my skin like the back of her hand, commented earlier this week that my skin looks surprisingly good considering all the drama (I received anaesthesia twice in the last year) it had been through.
My conclusion? My skin clearly benefitted from this range. It is effective and the price is reasonable. Try it with confidence when your skin starts to show the ravages of time, or if you have gone through a difficult time and your skin just needs some pampering.
Writer: Elsa Kruger
Blog: Mooipraatjies Met Elsa