Published: 2020/11/11
How To Save Your Strands This Summer
Summer isn't without its challenges - especially when it comes to your hair. From damaged, split ends and oily scalps to green hair after a swim in the pool (yes, this can actually happen). But, fear not! We're here to the rescue with 7 amazing and simple summer hair care tips!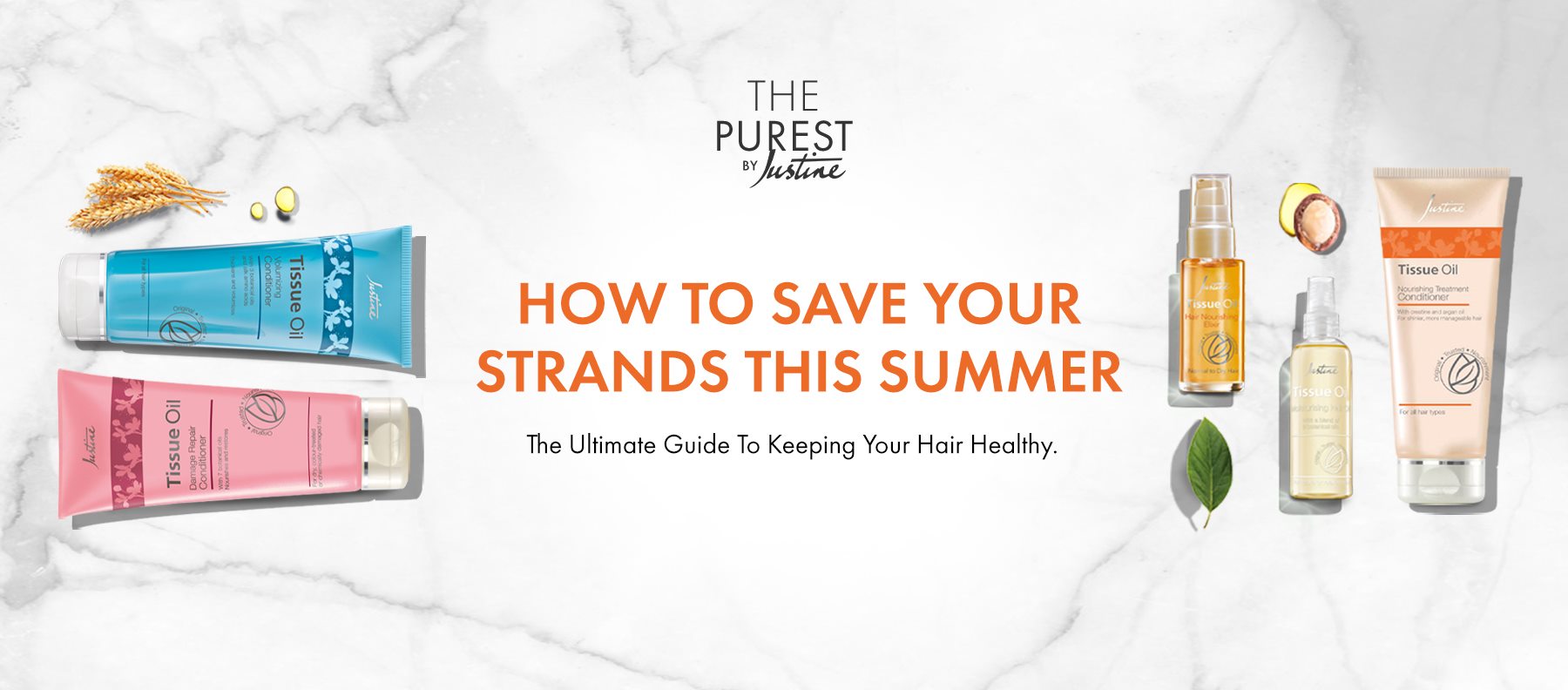 What can be better than warm sunny days, floral dresses and icy cold lemonades under the sun? It all sounds like sweet perfection…

However, summer isn't without its challenges - especially when it comes to your hair. From damaged, split ends and oily scalps to green hair after a swim in the pool (yes, this can actually happen).
But, fear not! We're here to the rescue with 7 amazing and simple summer hair care tips!

CONDITIONING IS KEY
When the temperatures rise and the summer heat hits, getting enough water to drink is important - that's summer hydration 101. However, did you know that your hair gets just as thirsty in the hot weather? So, why not treat it to a little moisture-rich refreshment?

Switching your shampoo and conditioner to moisturising formulas and using hair oil or serum on the ends will help restore parched locks. For added treatment, conditioning masks and leave-in conditioners will give your hair a deeper level of moisture.

GET LOOSE
Summer humidity can be brutal, something those who suffer from frizzy hair know all too well. Add to that, tight hairstyles that tend to pull and tear hair (especially if your hair is dry from the summer heat) and you'll be splitting hairs in no time.

Adopt surfer girl chic and experiment with loose, care-free styles. That's what summer is all about! You can try messy buns, high ponytails, box braids… the sky's the limit. Not only will it help keep the frizz at bay, you will feel cooler by keeping your hair off your neck.

If your hair is feeling a little flat and limp for a down-style, invest in a good volumizing shampoo and conditioner that gives you that "beach-body ready" volume that every girl dreams of.
TURN DOWN THE HEAT
It's hot outside - no need to add to it by using more heat to style your hair. So, ditch the hot curling irons and hairdryers on the highest setting.

Hairdryers are the biggest culprit when it comes to heat damaged hair. Leave it in the drawer and instead use a microfiber towel to blot your hair dry. This will help avoid frizz and absorb as much water as possible. Next, opt to air dry while you finish the rest of your morning routine.

If going au naturel is not an option, ensure you treat your hair with a damage control hair elixir to ensure you lock in all the moisture your hair needs.

SUNSCREEN FOR YOUR HAIR
Your skin isn't the only thing that absorbs damaging UV rays from the sun, so you need to protect your hair as well.

While there are shampoos and conditioners that contain UV protection, most of those are chemical-laden. Instead, opt for a nourishing shampoo that contains vitamin E - it protects your hair against free-radicals, UV rays and gives your locks a luscious lustre. It's a win-win hair situation.

Need something a little more? Dress your head in fashion-forward headgear. A floppy beach hat isn't only en vogue this season, it will also provide extra protection against the sun - your hair will thank you.

WASH LESS FOR MORE WOW
As the days get hotter and the conditions get sweatier, it's tempting to wash your hair every day. However, by doing that, you are stripping your scalp and hair of much needed natural oils… and nobody wants that.

Try just rinsing in the shower after a day at the beach or pool, and see if that gets rid of some extra oil. If your hair looks especially grimy, it could also mean that your hair is undernourished. Instead of washing it more often, treat your hair to a nourishing hair care formula that cleanses your hair without stripping it dry!

GOODBYE GREEN, HELLO GLAM
If you're blonde, you likely know the frustration of having your hair turn green after a swim in a chlorinated pool. Or how many of us have taken a dip in the ocean only to be gifted with hair that feels like straw later on?

Here's why: The salt content in seawater draws water out of the hair and skin, while chlorine strips the hair of its natural protective oils.

Minimise damage by rinsing your hair with cool, fresh water before taking a swim. Alternatively, you can add a protective summer hair care mask before you go swimming, for extra protection. Remember to wash your hair with a nourishing, damage control shampoo and conditioner after your swim.
COLOUR ME PERFECT
You love your color. And your color loves you. What neither of you will love is the damaging, fading effects the sun can do to your colour.

It's not always a la chic to cover up with a hat or scarf (why hide that vibrant glow when you can show it off). So, make sure you use hair care products that are specifically formulated with colour-protecting ingredients.

They will protect your hair from the sun's damaging effect and help keep it from fading. And when you use these products, always rinse with cool water. Hot water is drying and can fade the color.

THE COMPLETE HAIR CARE SOLUTION
Summertime is all about spending care-free days outdoors enjoying the warm weather. That's why adopting a healthy, nourishing summer hair care routine is so important to the health of your strands and in keeping the style you love.
Fortunately, Justine offers a range of hair care products, enriched with the #RealBenefits of #RealTissueOil, to ensure you're able to let your hair down this summer (in a good way).

Tissue Oil Hair Volumizing Hair Care:
Specially formulated to revitalise your hair from root to tip. The range contains a unique blend of 3 botanicals with added thickening silk amino acids and wheat protein for envy-worthy body and volume.
Tissue Oil Damage Repair Hair Care:
Nourish and restore hair by reducing hair breakage and dryness. Enriched with 7 botanical oils to leave your hair feeling smoother and looking healthier.
Tissue Oil Nourishing Treatment:
The Nourishing Treatment range is perfect for all hair types to give you an everyday hair care solution. Specially formulated with creatine, silicone, vitamin E and 4 botanical oils, it helps restore shine, smoothness and overall appearance of your hair.

Shop the blog