Published: 2020/07/15
Haircare Sins: Taming the Frizz
The 20's gave us short, sharp bobs, and the 30's were known for their platinum curls. The 70's brought us bouncy waves and flicks, while the 90's modernised poker straight locks with a fringe.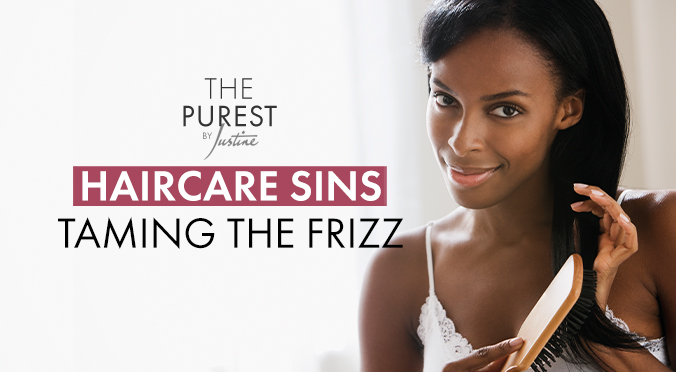 5 Habits That Are Damaging Your Hair - And How to Stop Them
While every decade is marked with a different hair trend, have you ever stopped to think about the daily damage you're doing to achieve the perfect coif? While genetics and health problems have a direct connection to your hair's health, the average woman's daily beauty routine contains a number of steps that are actually damaging to her tresses.

Lighten Up On The Bleaching
It may seem obvious, but it's not just the bleach that's breaking down your hair. Whether it's dyes, perms or straightening procedures, it's all doing some degree of damage. Chemicals like hydrogen peroxide and ammonia found in hair dye can cause thinning hair and hair loss. In hair relaxers, the primary chemical of concern is sodium hydroxide, which can weaken the hair and cause a scalp infection. A good rule of thumb is, the less you do to your hair, the better. However, if you have to put chemicals in your hair, try to add more time between touch-ups - especially when the air is dry.


Let Your Hair Down
Nothing says composed like a tight ballerina bun or a perfectly made ponytail. However, in a 2016 study published in the Journal of the American Academy of Dermatology, researchers found a strong association between scalp-pulling hairstyles and gradual hair loss. Try wearing your hair down whenever possible and, if tying your hair back, keep it a little loose. Also, do not wear the same hairstyle every day.


Too Hot to Handle
From curling irons to blow dryers, any heated beauty tools can create real hair damage. But it's not just the beauty tools that may cause a problem. Showering in scalding hot water could damage the scalp, causing dryness. It could also cause inflammation, which in turn could cause hair miniaturisation that leads to hair thinning and loss. To enjoy healthy hair, try washing it with lukewarm water for no more than 10 to 15 minutes, two or three times a week only. For a final rinse, use cold water to help lock in moisture. This will make your hair appear shiny and healthy.


Wet, Wet, Wet
When your hair is wet it's more vulnerable to breakage. Water breaks down the natural hydrogen bond in your hair, which gives it strength and shape. The bonds reform when your hair is dry, but it's important to avoid the damage when wet. After washing, blot your hair with an old cotton shirt (yes, even towel drying your wet hair can damage it) and allow it to air dry before combing. In fact, you should comb your hair when it is slightly damp. Slightly damp hair is also easier to style.


Brushing Up Means Losing Out
Think 100 strokes a day will make your hair shiny and full? Think again. Over-brushing your hair can cause split ends and breakage, with the over-brushing causing just too much consistent friction for hair to handle. The answer? Only brush your hair when styling, and even then, try to use a wide-tooth comb instead of a brush. Avoid pulling and tugging on your hair as you comb or style it. Remove tangles gently, using a moisturising detangling conditioner if necessary.
Redeeming Haircare
If you already have damaged hair, don't despair. Justine Tissue Oil Damage Repair Haircare range helps to restore and protect damaged, coloured and heat-styled hair. With a blend of 7 botanical oils rich in vitamins, minerals and essential fatty acids, Tissue Oil Damage Repair penetrates and nourishes the hair shaft, providing your hair with resilience, strength and shine.
The Conclusion?
Hair often goes through the ringer in the name of beauty, and sometimes the consequences aren't understood until the signs of damage start creeping up. When you start to notice a lack of moisture, split ends, breakage, dullness or weak strands, it's not the end of the world. It's just time to reach for the same nourishing benefits of the original Tissue Oil skincare range - now made for your hair. Trust the NEW Tissue Oil Damage Repair range to care for and repair every strand, for strong, healthy, shiny hair - from root to tip.

-Blog by Minette Underhay


Shop the blog