Published: 2021/02/26
Beauty, Minus the Cruelty
What does your favourite skincare essential or item of make-up actually cost? We're not talking rands and cents. It's not just a trend, it's a way of life - to save and respect lives.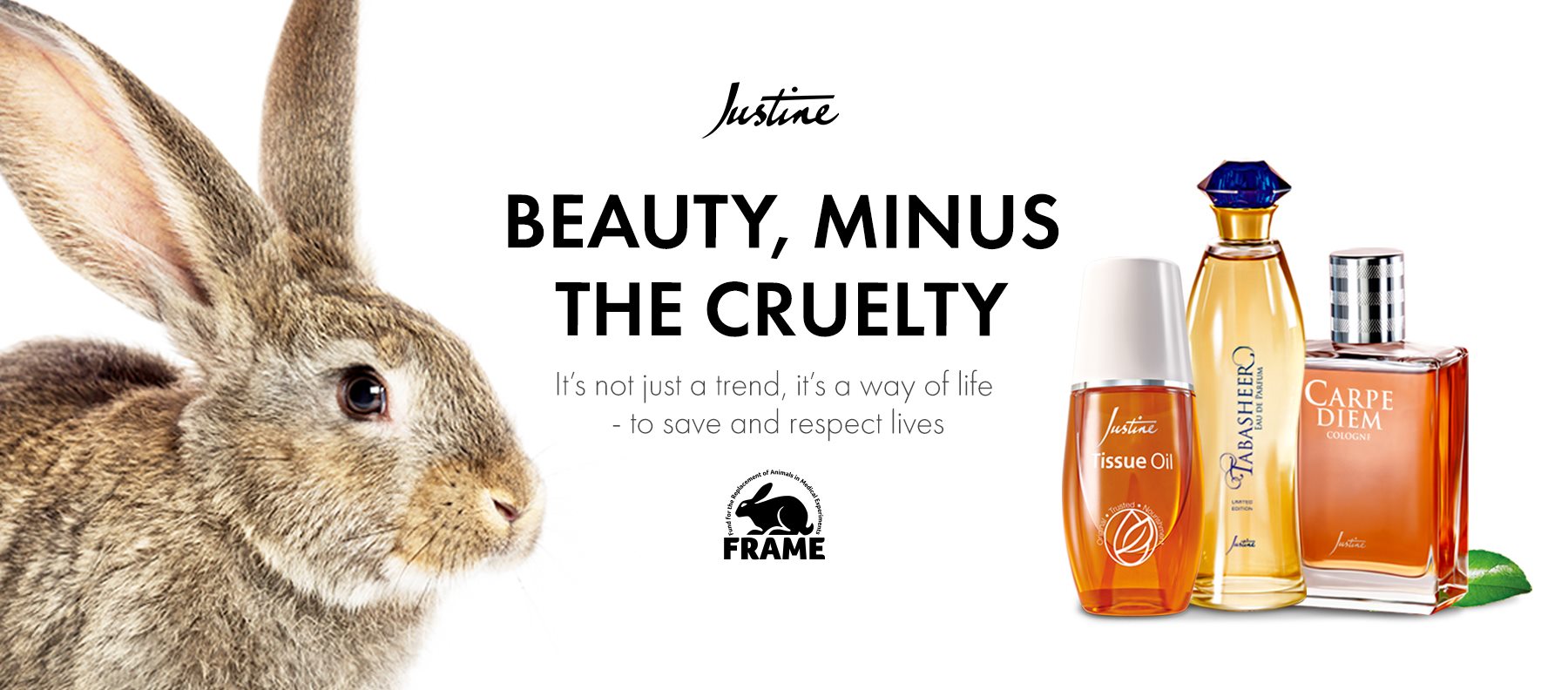 It's great that your trusted toner has a "no tears" formula, and the foundation you swear by is hypoallergenic. What isn't so great is how the claims on these labels are deduced.

CRUELTY-FREE BEAUTY
Did you know that some cosmetic tests commonly performed on mice, rats, rabbits, and guinea pigs include skin and eye irritation tests where chemicals are rubbed on shaved skin or dripped into the eyes without any pain relief.

Ouch.

The good news is that when your skincare staples and must-have make-up is from Justine, you can rest assured that no animals contributed to the production of your beauty essentials.

We respect the beauty of nature. That's why we've never tested any of our products on animals. To ensure our products are safe for you to use, we use alternative ingredients and innovative testing methods.
OUR CAUSE? NO HARM

At Justine we know that humans and animals are very different, so experimenting our products on animals would produce inaccurate or unusable results.

We've partnered with the Fund for the Replacement of Animals in Medical Experiments (FRAME) to find a way to bring you the best, without having to test any of our products on animals.
"FRAME is dedicated to the development of new, valid and ethical scientific methods that will replace the need for laboratory animals in medical and scientific research, education and testing," says Amy Beale, Scientific Liaison Officer at FRAME.
PRO-ANIMAL DIGNITY

Our gold standard beauty care solutions are the perfect blend of science and nature, because we are pro-you using Justine, knowing it's safe to use without the abuse.
From top to toe, Justine's formulas and innovations take the suffering out of science. Clinically proven to deliver results for our climate and suited to our diversity, we use faster, less expensive and more accurate alternatives to the outdated animal tests currently in use.
We are proud to not only be in the business of beauty with our network of micro-entrepreneurs, but ensure that every sale is a step towards global cruelty-free beauty.