Published: 2020/01/13
iThemba Walkathon a roaring success
22 October 2019, Johannesburg - The 14th Avon Justine iThemba Walkathon was held at Marks Park in Johannesburg on Sunday, 20 October with 20 000 participants in attendance.
Aimed at breast cancer awareness, the event was attended by numerous celebrities including legendary actress Lillian Dube, former Bafana Bafana shotstopper, Brian Baloyi, comedians Skhumba Hlophe and Jason Goliath as well as Neo and Kaya FM presenter Kgomotso Matsunyane.

The event began with a 8km and 5km walk along the scenic suburb of Emmerentia. Upon completion participants were treated to aOuelle water to help them refresh ahead of an exciting line-up of performers which included multi-award winning artist, Berita, artist of the moment Ami Faku, Brenda Mtambo, Nkanyezi, Ma Nola Zoze, Nkhanyezi Khubekha and 2015 idols winner, Karabo Magone. In addition to the live entertainment, participants could enjoy food from the numerous stalls that were available along with a kiddies area.

Dogs in attendance were careted for by Dogs Meaow Avon Justine's NGO partners were also exhibited at the event with the Cancer Association of South Africa (CAN SA) having two mobile units to help participants understand their risk of breast cancer. People Opposing Women Abuse, Lawyers against Abuse, Wings of Hope and Look Good ... feel Better, an organisation that provides free two-hour beauty workshops through a network of hospitals, and oncology units, specially designed to assist patients to manage the appearance related side effects of chemotherapy as well as radiotherapy, thereby helping to restore their appearance and self-image.

Participants could also donate blood through the South African National Blood Services (SAN BS). "Avon Justine wishes to thank its partners and sponsors a well as the thousands of runners and walkers who flocked to iThemba Walkathon in droves to support the noble cause of raising awareness about breast cancer. It was heart-warming to see the streets of Johannesburg enveloped in pink with thousands of participants nailing their colours to the mast and showing their solidarity to the noble cause of breast cancer awareness.

The support we received from Joburgers is humbling and gratifying," says Bridget Bhengu, Director of Corporate Affairs at Avon Justine. Since its inception in 2001, Avon Justine's iThemba Crusade of Hope has donated almost 24 million to various NGO partners with the aim of fulfilling its breast cancer promise to ensure that no woman in the country is left in the dark about breast cancer.
-ENDS-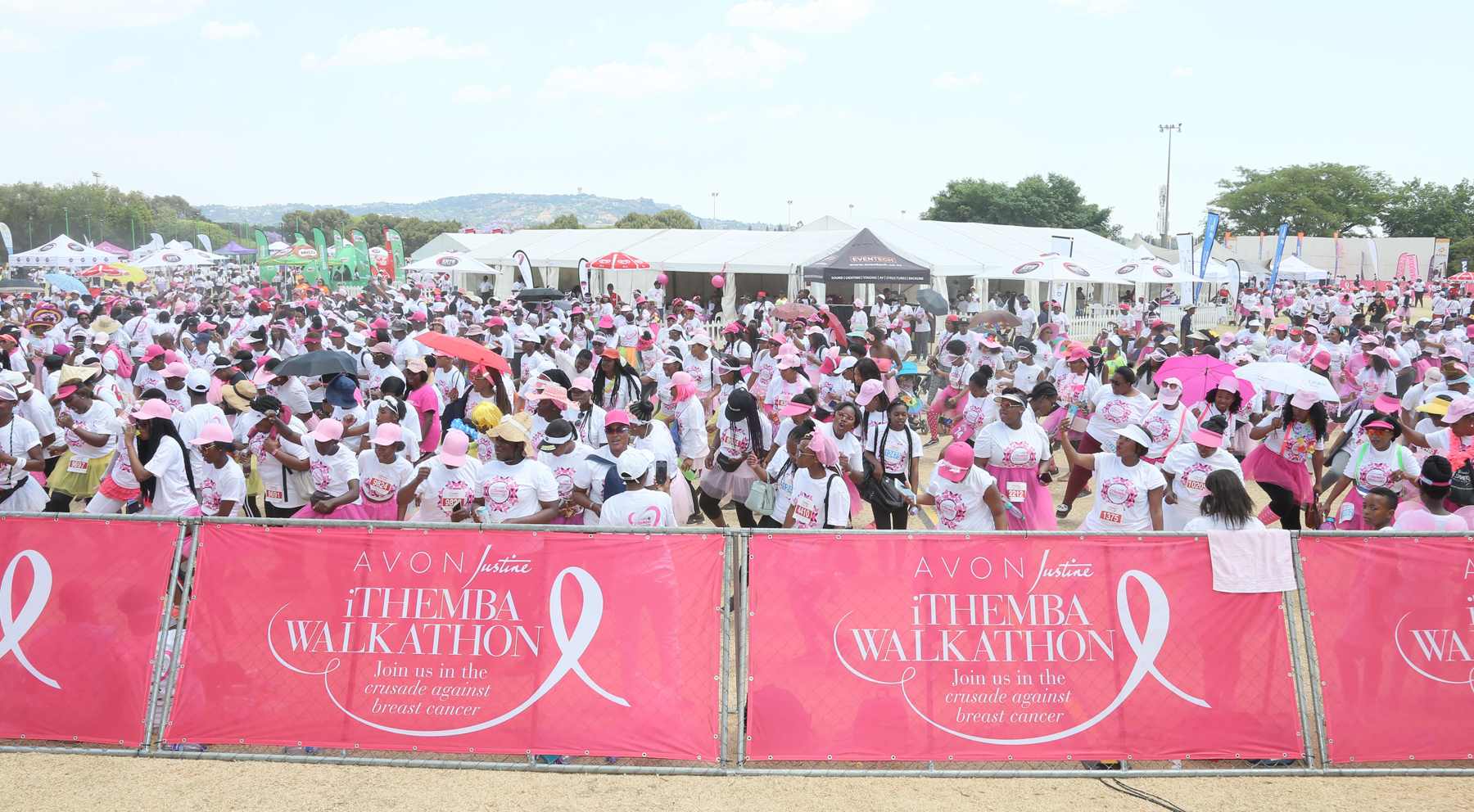 Contact the press office and causes team
The press office team will be delighted to help with all your Avon media enquiries.
Nontuthuzelo Zulu
Corporate Communication Coordinator 
nontuthuzelo.zulu@avon.com | Direct: 082 600 6261
Antoinette Dickson
Snr Field Communication Specialist
antoinette.dickson@avon.com | Direct +27 66 374 8036